• Tuesday, March 01st, 2011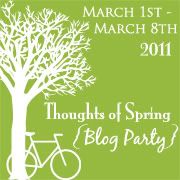 Hey everyone!  I've wanted an opportunity to get back into blogging and I think this is it.  My Blog Chum Lynnette at Dancing Barefoot is hosting this fun blog party.  So join the fun!   I have missed writing and missed keeping up with all my blog buddies.  Life took over and I found it difficult to make the time to write and post.  I'm so looking forward to making new friends, finding old friends and learning about each of you!  So here goes…
How would people describe your personality? (If they could only use ONE word.) Are they right? Loving (from my sister) and I would agree with that.  It was funny, I asked my husband and when he hesitated, I asked, "simple?"  He said, "complicated."   phlebbbbb!!!!  After that he added Caring.
What celebrity/celebrities would create a "Star-Struck" feeling if you saw them in real life? Sean Connery, he is so handsome and I love his accent!
Who is your favorite blogger? Why? Lynnette Kraft because she is fun, she is real and loves the Lord and she's an old friend!   I also like Myra at My Blessed Life she does some fun stuff with interiors that I enjoy.
What is your comfort food/drink? Chocolate and or coffee
Be brave – tell us something very random and weird about yourself. I sang "Give Me your Tired Your Poor"as the Statue of Liberty in a July 4th Celebration "I Love America" several years ago.
Do you have a strong desire to do something you've never done? Yes, two things.
What is it? I would love to learn to paint or draw, I would also love to learn photography.
Movies: Action, Drama, Romantic Comedy, Documentary, Comedy? What are your favorite genres? I like a lot, I don't have a specific genre really.  Action (but not a lot of blood and gore) Drama, Romantic Comedy, Documentary, inspirational.
Books: Fiction, Non-Fiction, Romance, Biographies, True Stories, Self-Help, Devotional/Study? Fiction, Christian/Historical Fiction, Biographies, Devotional/ Study.
What are your favorite types of reading material? Books, magazines.
Music: Funk, Rock, Country, Jazz, Classical, Film Score, Blues, Classic Rock, Crooner, Alternative, Heavy Metal, Techno? What are your favorite types? Classic Rockl, County, Jazz, Classical, Opera.
If you inherited a million dollars, what is the first thing you would do with your money? Donate a portion of it to someone who needs it, not a charity, but an actual person.
Name one weakness of yours (confession is good for the soul). Right now,  Facebook….
If you could live anywhere at all (and take all your loved ones with you), where would you go? I've thought about Australia, or someplace like the Figi Islands, or a little patch of green land nestled between some mountains.
Strange Talent? Can you juggle basketballs, put your legs behind your head or perform some other strange feat? Nope
What's something you consider yourself to be good at? (Don't worry, it's not bragging, it's acknowledging a God given gift). I can sing and I do enjoy it, especially when I am praising Him.
What is one of your favorite things to catch a whiff of? Roses or coffee
When you leave a social gathering, do you wish: You would have talked more or You would have talked less? I wish I would have talked more.
If money wasn't a factor, what stores would you shop in? Kohl's, Bed Bath and Beyond, Dillards and antique shops
What is your greatest fear? Leaving somewhere without my son.
What is your greatest accomplishment? Being a Mom.
What are your favorite animals? Dogs (some, not all kinds) and Horses
Are you a hopeless romantic? Not really, sometimes I struggle with knowing how to be romantic….:-)
What movie or book character can you most relate to? Ann of Green Gables maybe, that's a tough one.
So there they are.  I'm so glad you stopped by!  I'm looking forward to visiting your blogs and learning more about you!
Have a blessed day!